Happy Friday!

Hope everyone's weekends are off to a good start!
It's my favorite blog day of the week, because....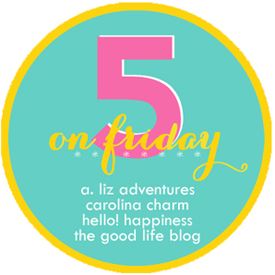 Time for that Five on Friday! On the docket this week:
(Well, not essentials... But things that make fall a lot more fun, and fun is certainly essential!)
Clockwise, starting with the top left:
1. Shut the Front Door Burlaps by Ryann.
I'm a little in love with every. single. one. of these burlap door decorations by my sweet blogging friend. Seriously, how adorable are these? I think a pumpkin is perfect for October and November, and after that, good luck picking just one for Christmas!
2. Gold Bond Intensive Healing Hand Cream. It happened this week. My hands betrayed me, per usual in the cold weather, and dried up like the desert. I've been using Cetaphil a little haphazardly on them, but let's face it: that stuff isn't going to turn sandpaper into a baby's bottom. However, Gold Bond's intensive healing hand cream just might. I bought it tonight at Target, and after one application, I'm a believer. This stuff means business.
3. Hot Hands. I guess I have some seriously high-maintenance hands, because aside from getting chapped, the hands also get ridiculously cold! Hot Hands were a must for last night's eight o'clock kickoff in Death Valley! Yay for another "W" for the Tigers!
4. eos lip balm. Okay, okay... Maybe I just have the most sensitive skin in the world, because my lips also tend to take a beating in the winter. This year, I'm being proactive! Last week I bought some eos, although I was a little skeptical, because I thought maybe the whole spherical packaging was a gimmick. I was wrong, because it is awesome! However, I think maybe this holiday packaging actually is gimmicky.... And it's working. Mark my words: my lips (and hands!) will not suffer this year!
5. Soup, dere it is!
Sorry, but I had to reference
my dad's favorite holiday SNL sketch
. In all seriousness, soup has become my go-to meal for suppers. It's hard to beat just throwing stuff in my crockpot and having warm and delicious meals for the entire week! I'm pretty sure
this ravioli and zucchini soup
is next on my list...
What are your fall essentials?